Porcelain Veneers
Full & Partial Veneers
Accepting Most Insurances
Open on Saturdays
Financing Plans Available
What Are Porcelain Veneers?
Porcelain veneers are a great way to get that beautiful smile you've always wanted! They are ideal for people with stained, chipped, or missing teeth who are not good candidates for implants. Veneers are irreversible, so pacing them correctly is very important. According to the American Academy of Cosmetic Dentistry (AACD), a veneer is a "thin piece of porcelain used to re-create the natural look of teeth, while also providing strength and resilience comparable to natural tooth enamel."
Veneers are custom-made to fit your teeth and bonded to the enamel during a series of in-office procedures. Our Davie dentist, Plantation dentist, and Tamarac dentist specialize in porcelain veneers for patients looking to restore the function and appearance of discolored or deformed teeth. Veneers are stain-resistant, natural-looking, and come in a range of colors, allowing patients to choose the exact shade of white they want.
No damage to your natural teeth
Improve confidence & appearance
Can be done in 1-2 visits
Provide a natural-looking tooth replacement
Porcelain is well-received by the gums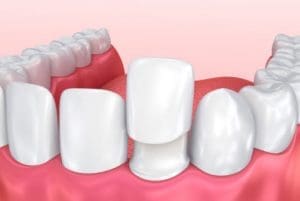 Different Types of Veneers
Laminate veneers consist of several thin ceramic layers that replace the original enamel and an adhesive layer. A small amount of enamel is removed to create room for the veneer. There are two main types of veneers — composite veneers, which can be manufactured and applied same-day, and porcelain veneers, which involve taking an impression to create custom porcelain "shells" to fit your individual teeth.
Both come with pros and cons but the same goal: to restore function and appearance by covering up damaged or decaying teeth. Veneers are a successful option in many situations where the original tooth has developed poor color, shape, and contours. Your Davie dentist, Plantation dentist, or Tamarac dentist can guide you through the entire process.
Porcelain Veneer Pros & Cons
Veneers have many functional and cosmetic benefits including the ability to whiten your smile, restore damaged enamel, and fix imperfections. Patients can even select the exact shade and shape of their new teeth! Porcelain veneers attach to the surface of the enamel and cover up chips or damage without damaging or repositioning the teeth. Since porcelain has a similar appearance and consistency to enamel, they are quite realistic and natural looking. They are also smoother and stronger than natural teeth so you can eat and drink whatever you want without having to worry about permanent staining.
While veneers are one of the most popular cosmetic dentistry procedures, they do come with some drawbacks. One downside is the cost, which can range from hundreds to thousands of dollars per tooth depending on the dentist. Since the application process involves removing a portion of the enamel, your natural teeth can become more sensitive to warm or cold temperatures. Veneers are also susceptible to chipping or breaking and replacing them can be expensive, meaning that patients must be careful not to grind or eat certain foods.
Schedule a Porcelain Veneers Consultation
If you are interested in composite or porcelain veneers, contact our office to schedule a consultation. At Smile Every Day, our team goes above and beyond to provide a safe, comfortable, and positive experience for every single patient. From routine exams and cleanings to more specialized procedures, we do it all under one roof. We are open on Saturdays and currently accepting new patients of all ages!