Davie Dentist
Adult & Cosmetic Dentistry
Accepting Most Insurances
Evening & Weekend Hours
In-House Financing & Insurance
Ask About Our Current Specials!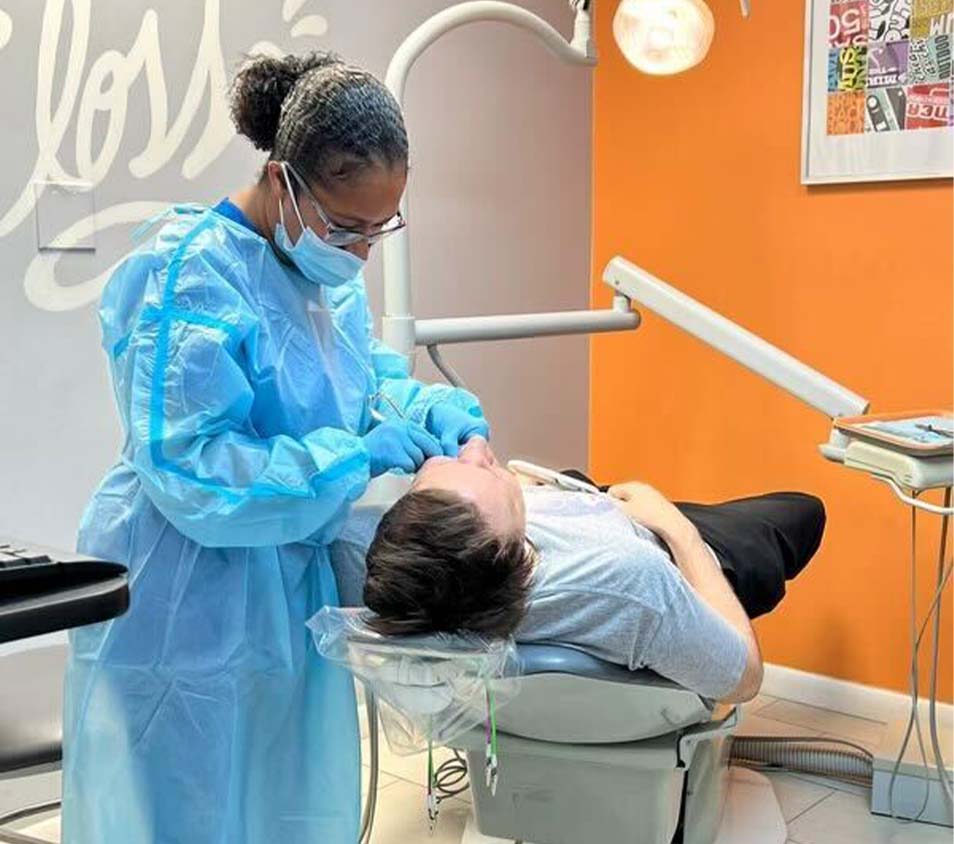 Preventative, Restorative & Cosmetic
Dentistry Services
Smile Every Day is a leading Davie dentist that offers general and cosmetic dental care for all ages in Broward County. We treat our patients like family and work hard to make sure everyone loves going to the dentist. Our mission is to help you brush every day, floss every day, and smile every day!
Examinations, x-rays & cancer screenings
Teeth cleanings & whitening
Dental crowns & bridges
Sealants & cavity fillings
Veneers, dental implants & dentures
Braces & Invisalign®
Request an Appointment
"*" indicates required fields
Full-Service Dental Care in Davie, Florida
Our Davie dentists always go above and beyond to make sure that every patient is comfortable and happy with their results. We are open on weekdays from 9:00 am – 7:00 pm and on Saturdays from 9:00 am – 3:00 pm. We also provide in-house financing and insurance options so that patients can get the care they need for pricing they can afford. All of our offices are currently accepting new patients and most insurances!
Dental Exams, X-Rays & Oral Cancer Screenings
Proactive care is essential for maintaining healthy teeth and gums. Even if you don't notice any issues, it's recommended to schedule an annual dental exam. Early detection and treatment of problems can prevent more severe and costly issues in the future. Our dentists provide routine exams and x-rays to detect and treat diseases or issues as soon as possible. If you are due for your annual exam, reach out to schedule an appointment.
Teeth Cleanings & Whitening Treatments
Our cosmetic dentistry team offers a range of non-invasive teeth whitening options to bring back your natural tooth color. We tailor our techniques to each patient's specific needs. Results can vary, with some treatments requiring multiple visits, while others can be done in one appointment. Your dentist will work with you to determine the best course of action during a consultation.
Dental Crowns & Bridges
Crowns and bridges are a long-term solution for restoring the appearance and function of compromised teeth. They can be used to restore damaged teeth, replace old fillings, correct chips or breaks, and protect exposed teeth after surgery. Crowns are usually made from materials like metal and porcelain. They are also low-maintenance and can last a long time with proper brushing and flossing habits.
Veneers, Implants & Dentures
Veneers are made from porcelain or composite materials and customized to fit every patient's teeth. They are designed to correct issues like discoloration, gaps, or misalignments for a more attractive smile. Veneers are permanently bonded to the teeth and offer a natural-looking cosmetic boost.
Dental implants are titanium posts that are surgically anchored into the jawbone to replace missing tooth roots. Implants provide a stable foundation for fixed prosthetics like crowns or bridges. Designed to replicate the natural structure of the teeth, implants can restore functionality, improve your smile, and prevent bone loss for a long-term solution to missing teeth.
Dentures, or "false teeth," are removable prosthetics designed to replace missing teeth. Available as complete (for all teeth) or partial (for some teeth), dentures help restore function and appearance. They are usually made from acrylic resin with metal attachments and offer an alternative solution for patients who want to spend less money or avoid surgery.
Tooth Contouring
Tooth reshaping, also called enameloplasty, is a cosmetic dental procedure that is used to change the shape, length, or surface of the teeth by removing small amounts of enamel. Our dental office specializes in tooth contouring to fix deformities or damage like chips, grooves in the enamel, and irregular tooth shapes. They also improve your overall oral health by eliminating crevices or overlaps between teeth that can harbor plaque or tartar.
Wisdom Teeth Removal
Wisdom tooth removal addresses potential complications from the third molars. Often emerging in the late teens or early twenties, these teeth can become impacted, misaligned, or cause overcrowding. If you start experiencing these symptoms, extraction is usually the go-to solution. Removing the wisdom teeth prevents pain, infection, and bite issues for better comfort and oral health.
Dental Fillings & Sealants
Dental fillings are restorative treatments used to repair teeth affected by decay or fractures. By removing the decayed portion and filling the cavity with a durable material, the tooth's integrity and function can be fully restored. This common procedure helps maintain oral health and prevent further tooth damage.
Dental sealants are protective coatings applied to the chewing surfaces of molars and premolars. These thin, clear barriers shield the tooth's enamel from cavity-causing bacteria and acids. Sealants are especially beneficial for children and help significantly reduce the risk of decay in the grooves and fissures of back teeth.
Clear Aligners & Braces
Clear aligners are transparent, custom-fitted orthodontic devices designed to discreetly straighten teeth. They are made from medical-grade plastic and permanently adjust the position of the teeth over time. Aligners are removable and virtually invisible, making them a popular modern alternative to traditional braces. Braces are appliances that are glued and secured onto the teeth to correct misalignments or bite issues. They are comprised of brackets that are attached to teeth and connected by wires; they work by applying steady pressure to shift the teeth into the desired positions over time. Braces come available in metal, ceramic, or clear materials depending on patient preference.
Root Canal Therapy
Root canal therapy is a procedure used to treat infected tooth pulp, which can be caused by injury or untreated cavities. If undetected and untreated, the infection can worsen to the point of needing an extraction. Our dentists are experts in performing safe root canal surgery with the highest level of patient care and comfort.
Dermal Fillers
If you're looking for a way to rejuvenate your appearance without the downtime or invasive nature of surgery, dermal fillers may be the solution for you. This quick, non-surgical treatment can be used to restore volume, lift sagging skin, plump thin lips, soften wrinkles, and improve the appearance of scars. Many people choose fillers for their convenience and cost-effectiveness compared to traditional surgical options.
Find a Davie Dentist Near Me
At Smile Every Day Dentistry, we understand the positive impact a beautiful smile can have on your confidence. Our team prides itself in providing the highest level of dental care to help patients maintain great oral health and enjoy lasting results that make them proud to show off their smiles! Our Davie dentist specializes in several general and cosmetic dentistry services backed by comprehensive training, certifications, and years of experience in delivering natural-looking smile makeovers.
Why Choose Smile Every Day?
We take our mission seriously and place a high priority on the safety, comfort, and satisfaction of every patient. Our team takes great pride in serving the South Florida community through premium dental care. Call our office or submit the form below to ask any questions or schedule an appointment.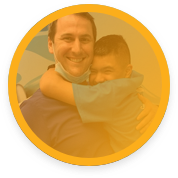 CARING & FRIENDLY STAFF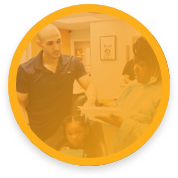 IN-HOUSE FINANCING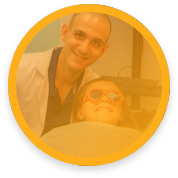 BOARD-CERTIFIED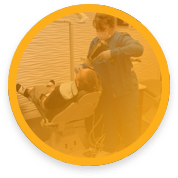 ADVANCED EQUIPMENT
CARE FOR ALL AGES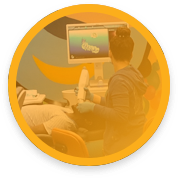 OPEN ON SATURDAYS
Your First Visit
Creating a great smile is our business so naturally meeting new patients is always the favorite part of our day. We never charge for the initial consultation, it is always complimentary. Your first visit consists of a comprehensive examination to allow the dentist to go over the best treatment options that are available for you. On the day of the consultation if you decide to initiate treatment our team members will take dental records. These records include:
X-Rays – Both Panoramic and Cephalometric
Photographs of the teeth and the face
iTero digital scan of your teeth to create models
New patient? Complete our intake form.
Get Started
Contact our office to schedule an appointment. We look forward to speaking with you!