Creating a great smile is our business so naturally meeting new patients is always the favorite part of our day. Our office, as well as The American Academy of Pediatrics (AAP), the American Dental Association (ADA), and the American Academy of Pediatric Dentistry (AAPD), recommends a checkup twice a year. Your first visit consists of a comprehensive exam to allow your dentist to review the best treatment options available to you. Should you decide to begin treatment on the day of consultation, our team members will take and examine dental records. These records include:
• Panoramic & cephalometric x-rays
• Photographs of the teeth & face
• iTero digital scan of your teeth to create models
From the moment you arrive at our Plantation, Tamarac, or Davie location, our friendly doctors and staff will do their best to make you feel at home. We strive to deliver the best service possible, and that includes making you feel comfortable, getting to know you, and providing top-notch customer service. Sometimes the solution might be a routine cleaning, other times we may discover issues and need to schedule a follow-up.
Schedule Appointment
New Patient Forms
What to Expect During the First Visit
In order to speed up the appointment process, please try to arrive at least 10 minutes prior to your scheduled time to complete any paperwork. You can also access and complete our intake forms online. During your first visit, we gather all the information we need to develop a preventative program unique to you. We can discuss appropriate home care such as brushing, flossing, diet, and fluoride. We perform an exam to check for issues and discuss your oral health. If an infection or potential health issue is detected, we may take an x-ray, discuss treatment options, or schedule a follow-up visit.
Our specialists are here to help you achieve your smile goals and help you maximize your oral health through ongoing cleanings, checkups, and education. We work together with patients to create custom treatment plans that take your individual schedule, budget, and health into account. We also provide in-house insurance plans and financing options so that every patient can get the care they need at pricing they can afford. Give us a call or submit a form request to schedule an appointment at our Plantation, Tamarac, or Davie office.
General questions
Many of the general questions can be answered during the initial examination. In order to give you the best feedback and answers to the more in-depth questions; the dentists will carefully review all of your diagnostic records in depth. Superior results and the highest patient satisfaction will only be achieved after the most comprehensive review and planning. Once we have completed a corrective treatment plan, we will set up a consultation to discuss the plan, go over a timeline for the procedure, and set up payments.
We take the time needed to make sure that every patient has a clear knowledge of what the treatment will consist of and how long the treatment will take. We will also take as much time as needed to answer any other questions you have. It is always important for us to make sure that our patients are fully informed of all aspects of any treatment or procedure.
Your Child's First Visit
The American Academy of Pediatrics (AAP), American Dental Association (ADA), and American Academy of Pediatric Dentistry (AAPD) recommend scheduling an exam at the first eruption of baby teeth. The goal of this visit is to determine a primary provider and ongoing oral health plan. Once we establish a primary doctor and appointment schedule for your little one, you'll know when and where to take them. To speed up the first appointment, you can download and complete our intake form prior to arriving.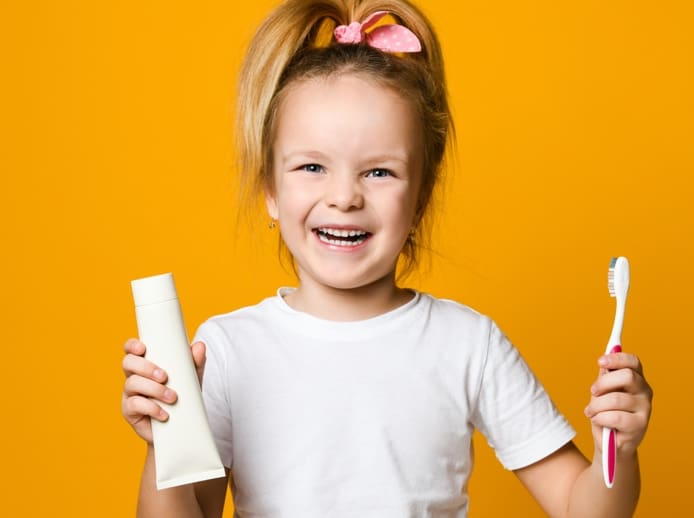 We invite you to stay with your child throughout every step. Please arrive at least 10 minutes prior to your appointment to complete any necessary paperwork and give your child some time to adjust to the office. We will gather the necessary information to develop a preventative program unique to your child. We will discuss appropriate home care such as brushing, flossing, diet, and fluoride treatments. Dr. Mo and Dr. Steve will perform a thorough dental exam for each child, determine their dental caries risk, check for any tooth decay, examine their occlusion (bite), evaluate for any dental growth or developmental concerns, and discuss any oral habits such as the thumb-sucking or pacifier use.
Dr. Mo and Dr. Steve will recommend dental x-rays only if necessary. We will determine, during the first visit, if your child is ready for a dental cleaning and fluoride treatment. This typically depends on your child's age and level of anxiety. For infants and toddlers we typically perform a "knee-to-knee" exam. For this exam, a child sits on your lap and leans back onto a soft pillow resting on the doctor's knees to complete the examination. This allows parent participation for the exam and added comfort for your child. If Doctors Mo and Steve determine your child needs dental treatment, they will discuss all the options offered in our office and help you make the best choice for your child.
We invite you to stay with your child during the initial examination and each visit after. This gives you the opportunity to see our team in action and allows the doctors to discuss dental findings and treatment needs directly with you. Our purpose is to gain your child's confidence along with your trust.
Don't be discouraged if your child cries on the first visit. Crying is a normal reaction for some children when faced with a new situation. It is important to make them feel reassured and positive about their dental experience. The more positive we make the visit, the more they will want to come back! If you get home and realize there was something you forgot, don't hesitate to call our office. We realize the first appointment can be overwhelming and want to answer all of your questions.
New patient? Complete our intake form.
Payment Options & Insurance
As part of our commitment to offer care to all in the community, we have partnered with most HMO and PPO care plans. We will most likely be in network.